Glamping in Ireland; freedom after lockdown
Everyone in our beautiful country has just about had enough of lockdown.  Parents, kids, couples singles, all in dire need of an escape from their own back yard, quite literally!  With foreign travel discouraged this summer, lots of you may be considering Glamping as a really great staycation option for summer 2021.  With uncertainty around restrictions for restaurants and pubs a self-catering break seems like a safe bet and glamping could just be the answer and glamping has something for everyone.
What is Glamping?
Glamorous Camping is where the phrase comes from, it has been around for a while and looks like it is here to stay cause it's awesome!  Teapot Lane Glamping was the first in Ireland to provide specialised Glamping.  When we opened up back in 2010 most of our potential guests had never heard of Glamping never mind experienced it, so we called it Teapot Lane Luxury Camp for a while as we felt it was more explanatory.  It caught on fast and was an instant success.  Many other places have come on board since and each has their own unique offering and are well with a visit.
The set up:
Glamping sites all differ but generally, there is a pod, tent or dome of some kind. This is camping yes but not as you know it. At Teapot Lane Glamping our domes come with beds, electricity and heat so you will not freeze in the damp Irish weather, nor will you wake up sweating in the morning sun as you bake in your sleeping bag…Oh no, things have changed, think crisp bed linen, blankets, cushions and throws, a reading lamp and a comfy King size bed.  A very short walk away there are bathroom facilities; flush loo and hot showers.  A communal kitchen for preparing your own light meals and a campfire to toast marshmallows, sip a beer or hot chocolate our make new friends.  And a BBQ too.
The piste de resistance…Teapot Lane Glamping has the most awesome woodland shelter with not one but two BYOB bars so you can serve yourself your favourite drinks in style.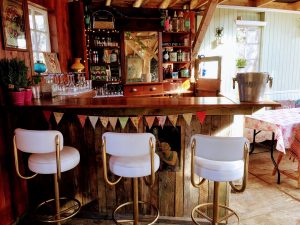 Couples treehouse
Our Treehouse is set away from the other accommodation and is exclusively for couples.  If you book the treehouse you will have your own little oasis up a tree.  A potbelly stove for cosiness and a few other home comforts like a king-size bed.  Sink, kettle, toaster, fridge plus a Nespresso machine means you can stay hydrated and bring your own refreshments. A balcony to sit out on with a compost loo and a cool rustic hot shower beneath.  All you need to hunker down.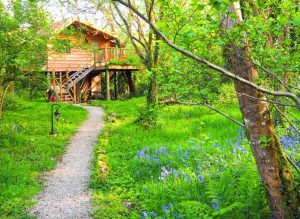 Location
Location is everything.  Teapot Lane is located on the borders of three beautiful counties.  Leitrim, Sligo & Donegal.  Our nearest shops are Bundoran in Donegal and Grange in Sligo we definitely have a bit of an identity crisis!  One thing we know for sure and that is that our location is unbeatable, nestled here in our small woodlands in the Northwest we are on the Wild Atlantic Way and are between the stunning Darty Mountains and the Atlantic Ocean.  Less than 10 mins drive away is a choice of  5  stunning Sandy beaches.  Two of our local beaches have been locations for films like Calvary, This is Us and many more.  Bundoran is 10 mins away a great spot for a surf or a pint or a sunset walk.  Sligo town is 20mins away with an array of really great restaurants and shops.
This is our resident dog below, no filter it really is that stunning and we have it to ourselves most days!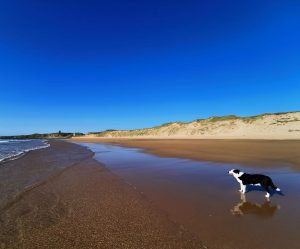 Well, I hope I have convinced you that Glamping is well worth it.  Try it out, there are fantastic options all over the country.  Word to the wise; it is Ideal for short stays of 2 nights especially for first-timers, in all honesty, you may be dying for an ensuite by the third day! The short walk to the loos at night is probably the biggest or even only drawback to the Glamping experience.  Most glamping units are not ensuite as it is impractical to dig pipes all over the landscape and often ground levels aren't suitable for greywater to flow efficiently but try to remember what the real camping was like in the old days and it shouldn't bother you too much.  You will be glad you tried it,  we promise.