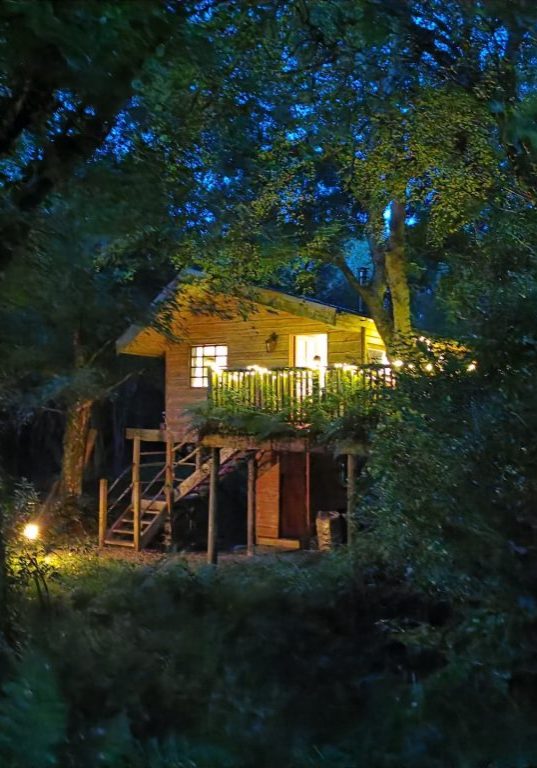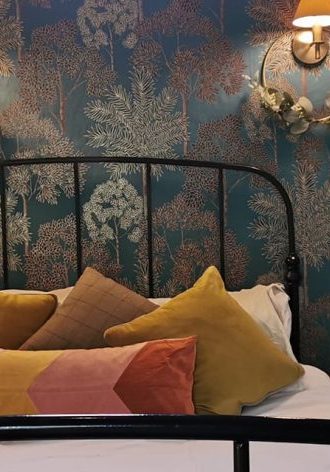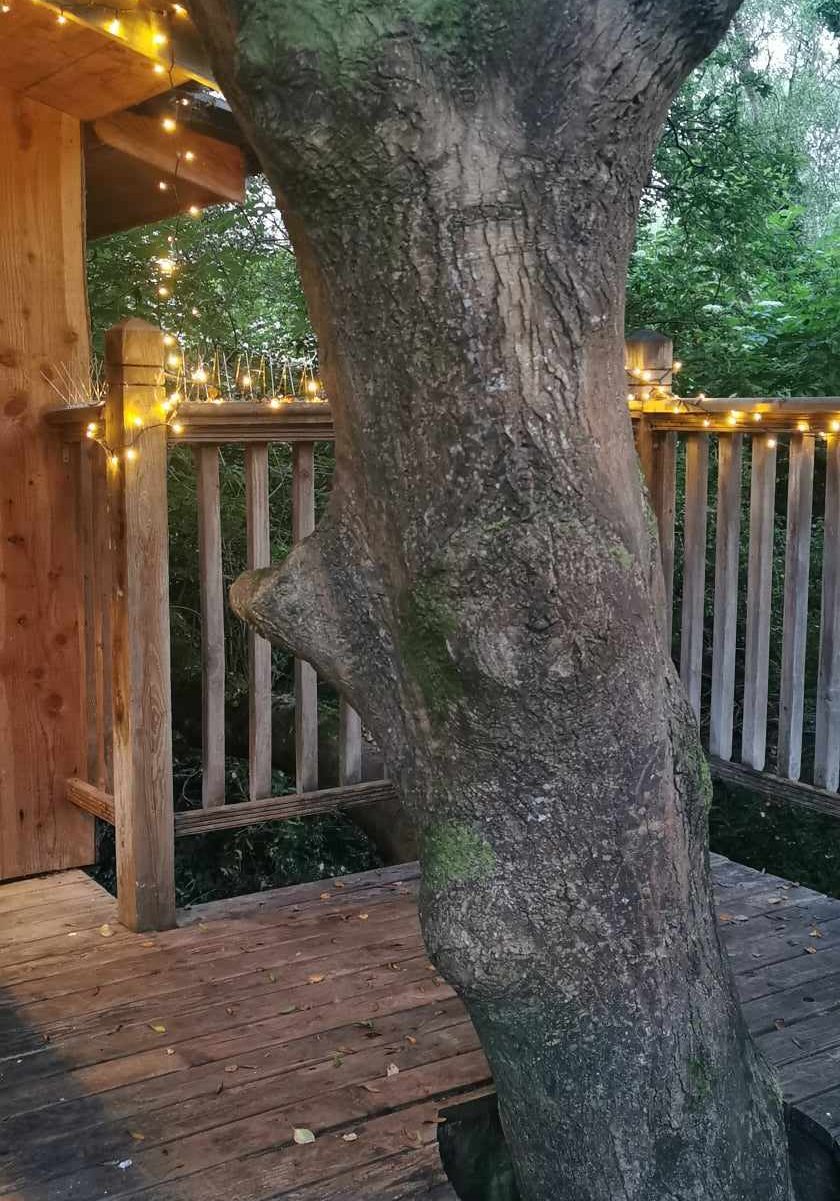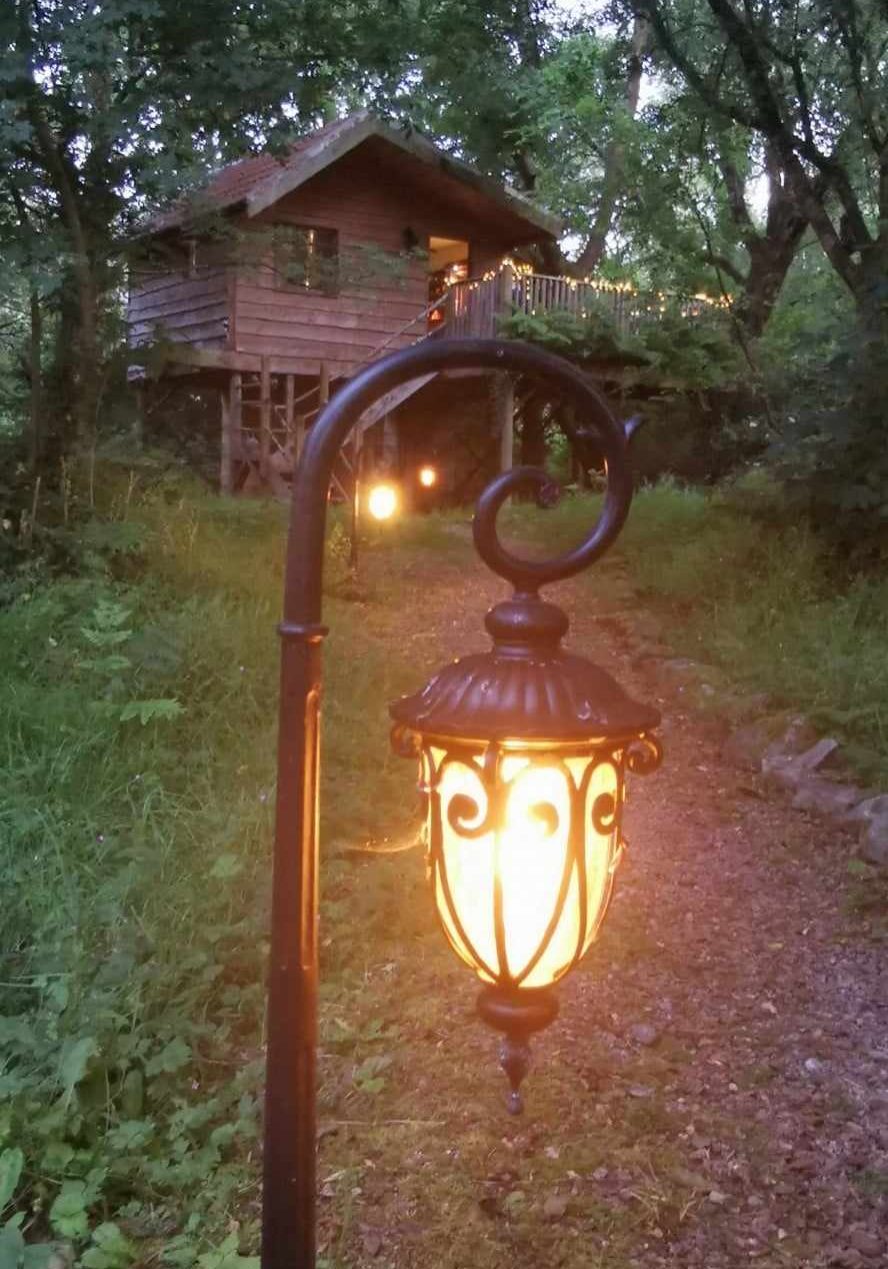 We are Closed from 1st November until December 29th.
Over the wooden bridge and down an enchanting path you will find our beautiful treehouse nestled in the woods.  With a large mature tree coming up through the deck you can sit and relax beneath the green summer leaves!
If your childhood dream was to have a treehouse hideaway or if a cosy romantic escape is what you crave, this is a unique Glamping break you are sure to enjoy.
Our treehouse has a plush interior with a beautifully dressed king-sized bed.
The potbelly stove (fuel provided) and/or electric heater will keep you cosy year-round.
Our Glamping breaks are fully self catering (communal cabin kitchen onsite), so don't forget to stock up on your favourite snacks and drinks before you arrive.
The treehouse facilities include a sink, kettle, toaster, small fridge and Nespresso/tea making.
A selection of bars and restaurants are 10min drive away and taxi service is available.
The perfect treetop setting for romance and relaxation.
Use of your own composting loo off the treehouse balcony and a rustic hot shower beneath means that you have everything you need while up a tree!  Teapot Lane Treehouse is truly unique and ideally situated to offer one of Irelands best couples glamping experiences.
To check out some of our local recommendations, just follow this link: Eating out & Local Attractions
Strictly Adults only
2 Night minimum at the weekend
10% Discount when booking more than one night
Payment in full on Booking
Pet friendly book your pet in at an additional cost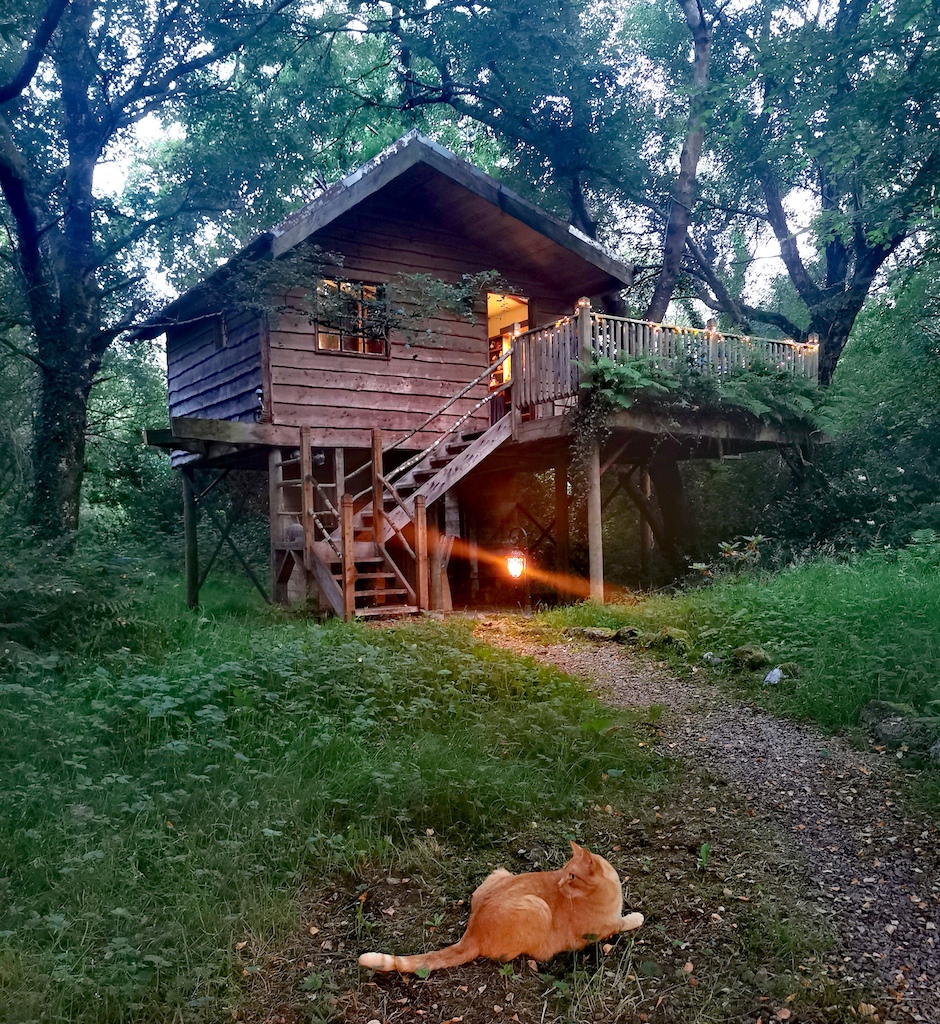 Included
Fresh bed linen
Facilities suitable for preparing light meals/snacks
Nespresso machine (4 pods included)
Small fridge, Kettle, toaster, sink, cups, plates, utensils
Private compost loo
Rustic hot shower
Fuel for Stove
Blankets for sitting out
Not Included
Food and drinks
Shampoo shower gel
Towels for showering
Useful Packing Tips
Flip flops for the shower and/or shoes that are easy to put on for the rustic shower (beneath the treehouse)
Insect repellent during summer months in case the midges are about, though they rarely bother you up the high!
Antihistamine if you suffer from hay fever as we are in the wilderness!
Less is more when it comes to single-use plastic and rubbish left behind so please bring the minimum to our eco-friendly camp.
Torches can come in handy in case the EBS is working on the power lines which has been known to happen!
Matches or a lighter come in useful for the stove and BBQ
Food, drinks and snacks if you plan to eat onsite.