Teapot Lane Glamping on the Sligo, Leitrim Border was opened in 2010, the first of its kind to offer Glamping in Ireland.
The owner's residence is conveniently located adjacent to the site and both are set on a few surrounding acres.  The land left intentionally to the wilderness. This is preserved as a habitat for the abundant wildlife.  Frequented by foxes, badgers, wild deer, hares and home to many species of birds big and small!  Both flora and fauna flourish and the land is rich with native wild plants and flowers.
With just three Glamping domes, one Treehouse and a country cottage, this ensures you will never feel overcrowded and there is a lovely community feel throughout!
Per Two Night Stay (recommended) - Four nights is just too much for most
Tip: Consider two nights of Glamping followed by a hotel break nearby.  Feedback from guests who have done this, is they have really enjoyed the best of both.
For those looking for 4 night stays please consider our cottage. The cottage has its own toilet, shower & kitchen facilities and so lends its self to a longer break.
Included
Fresh bed linen
Hand towels
Self-catering facilities and utensils
Fuel for the Stove
Option use of the communal campers kitchen
Communal woodland dining shelter with BYOB bars, glasses and wine fridge
Communal BBQ area
Not Included
Towels for Showering
Food and drinks
Charcoal for BBQ
Useful Packing Tips
Insect repellent during summer months in case the midges are about
Sunscreen if the weather is warm
Antihistamine if you suffer from hay fever as we are in the wilderness!
Less is more when it comes to single-use plastic and rubbish left behind so please bring the minimum to our eco-friendly camp.
Torches can come in handy in case the EBS is working on the power lines which has been known to happen!
Towels for Showering and the beach
Matches or a lighter for the stove & BBQ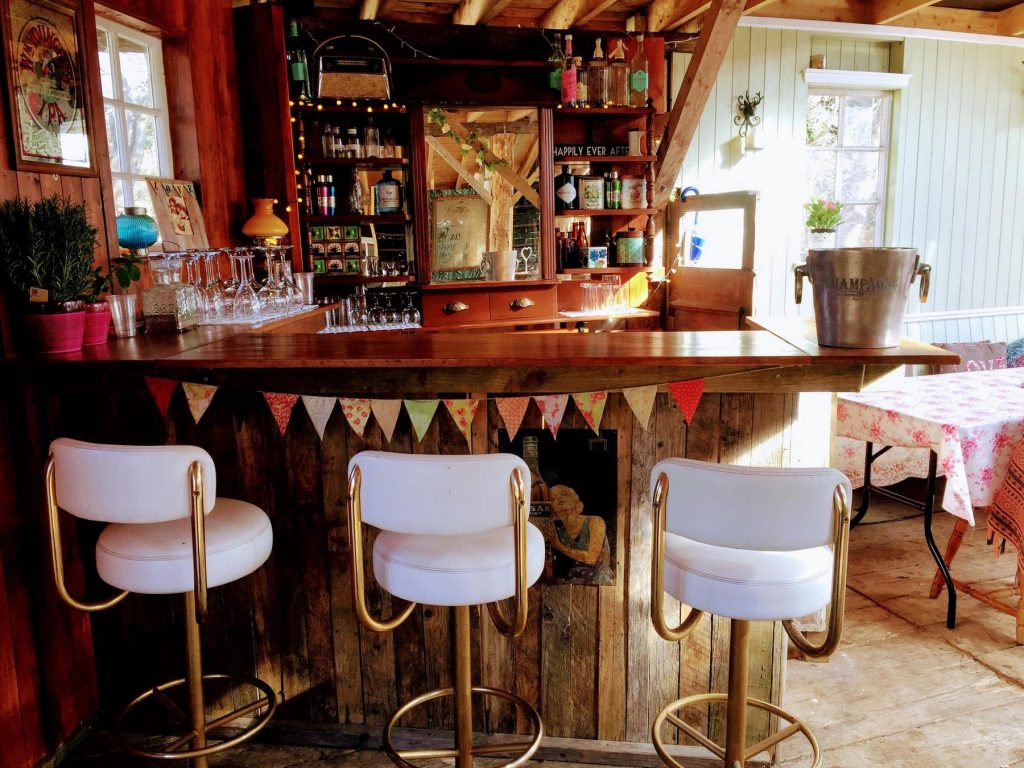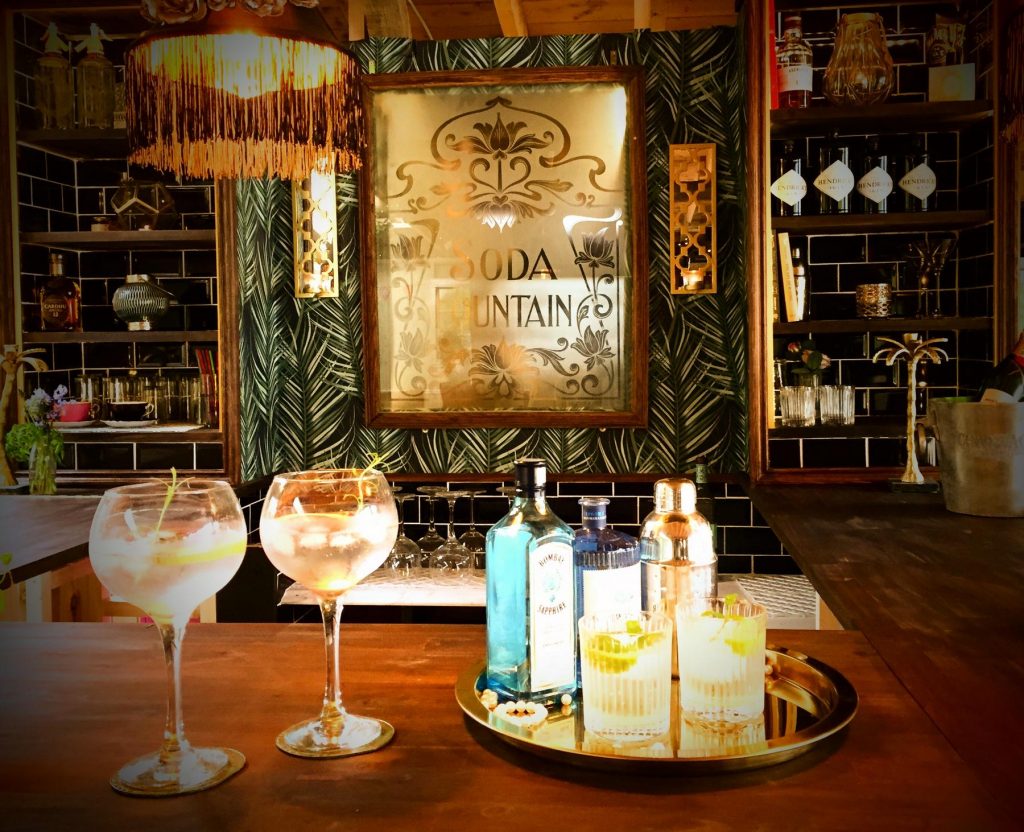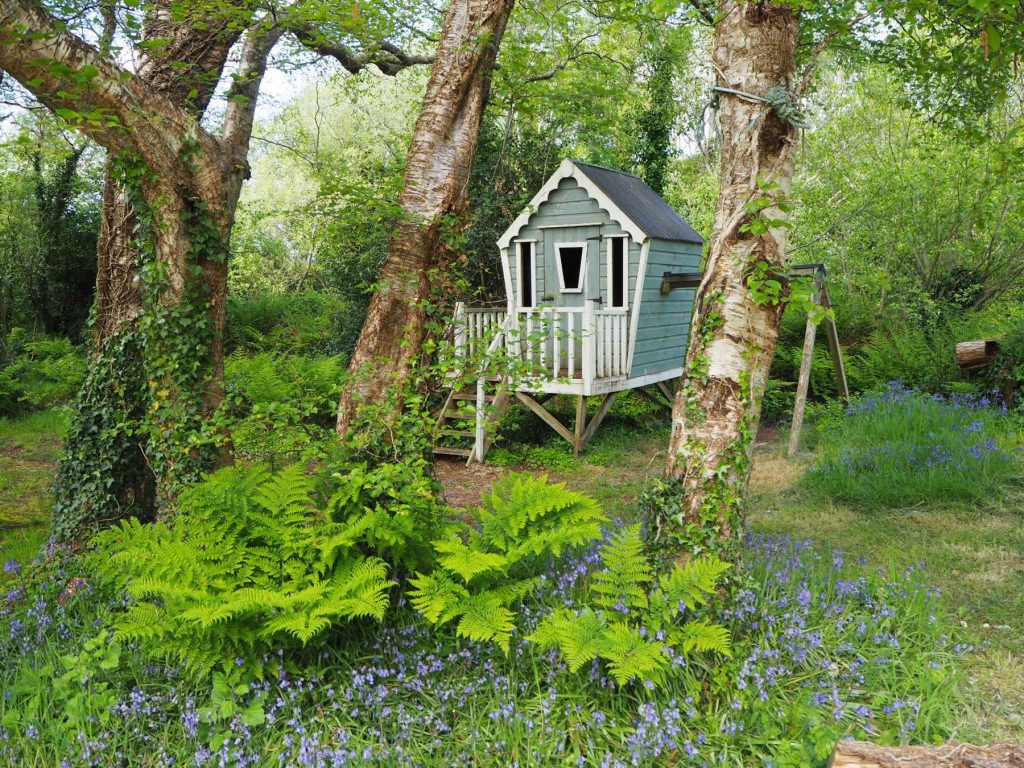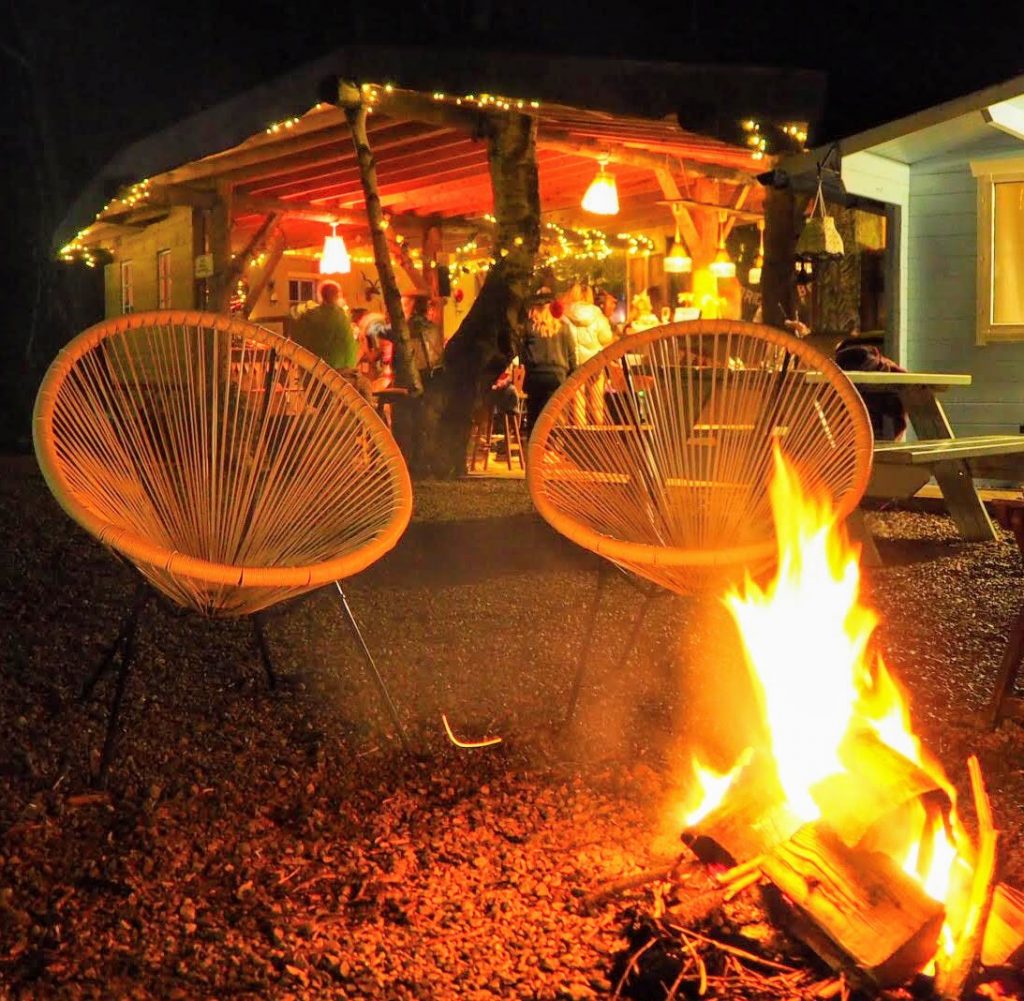 Cabin Kitchen - A shared log cabin kitchen contains a large communal fridge, kettle, toaster, microwave, sink.  There is hot water for wash up and shelves for storing provisions. This area is suitable for preparing light meals and snacks throughout your stay.
Woodland Shelter - A lovely space that's completely open on one side. There is plenty of seating inside to relax and enjoy food and drinks in all weathers. For fun, we have added two quirky BYOB bars that we have stocked with a selection of glasses and a fridge so you can enjoy your favourite tipple in style!
Please note: It is not possible to purchase any drinks on-site,  these bars are 100% bring your own - no corkage fees apply.
Loo's & Shower - Communal unisex toilets (2) & showers (2). Located a short distance from the yurts and the kitchen so you can freshen up during your luxury camping break.
Cottage & Treehouse guests have their own facilities.
There are gravel pathways throughout the site, if you stick to the paths, they will get you to your dome and all communal areas with dry feet.  You are Glamping in Ireland after all. Wellies are optional, not necessary but appropriate footwear is essential! Finally, Teapot Lane is completely self-catering so stock up on what you need on the way.
The nearest shops for glamping supplies are a 10 min drive in either direction to Grange in Co. Sligo or Bundoran in Co.Donegal.
A selection of excellent Restaurants, pubs and cafes within 10 mins drive
Go to our Local attractions page for details
We want everyone to enjoy their glamping holiday and as much as we really hate rules, (so please forgive us) we do have some that we ask you to follow - to ensure we all stay happy bunnies.
Noise curfew at 11 pm at night, as canvas walls sadly don't prevent the sound from disrupting others and our communal areas are outdoors where noise will carry for miles.
Strictly No music or loud socialising after this time.
Booking the place out does not exempt groups from our noise restrictions: owners reside onsite and we respect our neighbours right to a good nights sleep!
Children must be supervised at all times by parents/guardians.
Our Treehouse is strictly out of bounds for curious children and adults (unless it is has been permitted by staff before or after guests have checked in or out).  It is a romantic escape for couples and a private space to relax. If you were them, you might not appreciate the intrusion!
Cars to remain in the parking area with the exception of unloading and packing up, so guests can enjoy the space car-free
Absolutely NO confetti is to be brought on site – it is harmful to animals and the environment and truly impossible to remove – please leave it at home – or better still, help save the planet and don't buy it in the first place!
Please use the appropriate recycling bins provided and remove all rubbish from your accommodation before check out
Please wash, dry and put back dishes so all guests can enjoy the facilities clean and clutter-free
Rachel Allen visits Teapot Lane
Teapot Lane Luxury Camping on RTE Nationwide