Over the wooden bridge and down an enchanting path you will find our beautiful treehouse nestled in the woods.  With a large mature tree coming up through the deck you can sit and relax beneath the green summer leaves!
If your childhood dream was to have a treehouse hideaway or if a cosy romantic escape is what you crave, this is a unique couples Glamping break you are sure to enjoy.
Our treehouse has a plush interior with a beautifully dressed king-sized bed and window seats with lots of cushions. The potbelly stove will keep you cosy year-round. If you wish to check into a cosy atmosphere, the stove can be lit for your arrival on request.  A small kitchen area complete with, sink, kettle, wine fridge and Nespresso machine! The perfect treetop setting for romance and relaxation.
Use of your own composting loo off the treehouse balcony and a rustic hot shower beneath means that you have everything you need while up a tree!  Teapot Lane Treehouse is truly unique and ideally situated to offer one of Irelands best couples glamping experiences.
To check out some of our local recommendations, just follow this link: Eating out & Local Attractions
Adults only
20% Discount when booking more than one Night
Catch up with the girls - enjoy our girls getaway breaks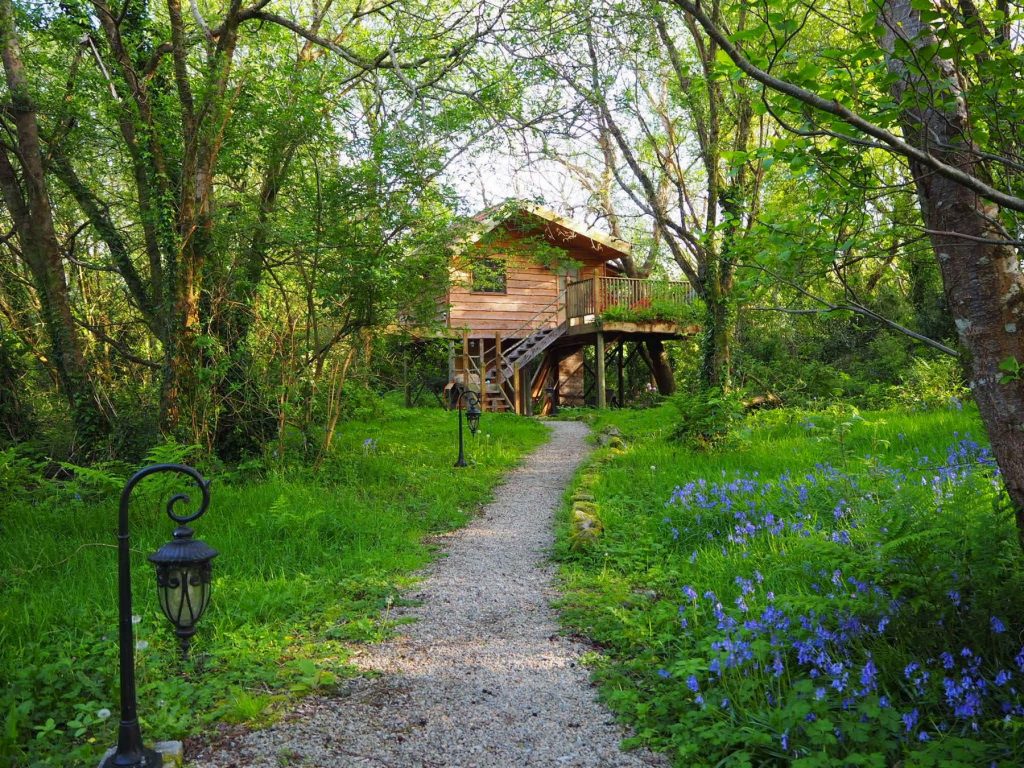 Included
Fresh bed linen
Self-catering facilities suitable for preparing light meals
Nespresso machine (4 pods included)
Small fridge / Kettle / toaster / sink / BBQ (Gas)
Compost loo
Rustic hot shower
Fuel for Stove
Blankets for sitting out
Not Included
Food and drinks
Ice for beverages
Shampoo shower gel
Towels for showering
Useful Packing Tips
Flip flops for the shower and/or shoes that are easy to put on for the rustic shower (beneath the treehouse)
Insect repellent during summer months in case the midges are about, though they rarely bother you up the high!
Antihistamine if you suffer from hay fever as we are in the wilderness!
Less is more when it comes to single-use plastic and rubbish left behind so please bring the minimum to our eco-friendly camp.
Torches can come in handy in case the EBS is working on the power lines which has been known to happen!
Matches or a lighter come in useful for the stove and BBQ
Food, drinks and snacks if you plan to eat onsite.
Enjoy a romantic couples glamping break or a catch up with the girls (each dome easily sleeps up to 4 guests) in our beautiful panoramic bubble domes. Sit by the wood burning stove and look out at nature. Our unique adult only glamping site is ideal for a tranquil stay in one of our luxury Domes in the heart of nature.
Teapot Lane has three beautiful glamping domes onsite. Each Dome is beautifully furnished with bespoke interior units. A plush SuperKing bed, a wood burning stove, a sofa to relax on, all make for a comfortable stay. Each has a coffee machine and importantly a fridge to chill your beverages.
What not treat your self or your beloved.  When booking you will have the option to add any of the following treats to your stay
Breakfast For Two - Continental Breakfast Hamper. Pre-order and you will have a hamper for two breakfasts each in your Dome on arrival
Voya Fragrance Gift Set - Created locally this indulgent gift set will allow you to relax even more
Chilled Champagne on ice 
Lilly O' Briens Chocolate Hamper or a box of  ultimate selection hand made choc's
Surf Lessons Bundoran We will book you on a group lesson in Bundoran. 10am or 2pm
Please note our domes are not ensuite. Toilet and shower facilities are a short 1 min walk from your Dome.
For more info on our facilities and Glamping click here:  The Camp
Feeling adventurous? There is a range of hikes and adventure activities available nearby as well as restaurants cafes and bars. Check out recommended Local Attractions 
Adults Only
20% Discount when booking more than one night
Our quality brand fdomes are beautifully lined and insulated and heated to ensure you are cosy in all weathers.  Curl up with in your bubble dome with a glass of wine and a good book and enjoy the unique experience, one of the best couples glamping breaks in Ireland.
Domes can easily sleep up to 4 so also perfect for catching up with the girls.
Enjoy our magical communal area with everything you need to socialise & self cater.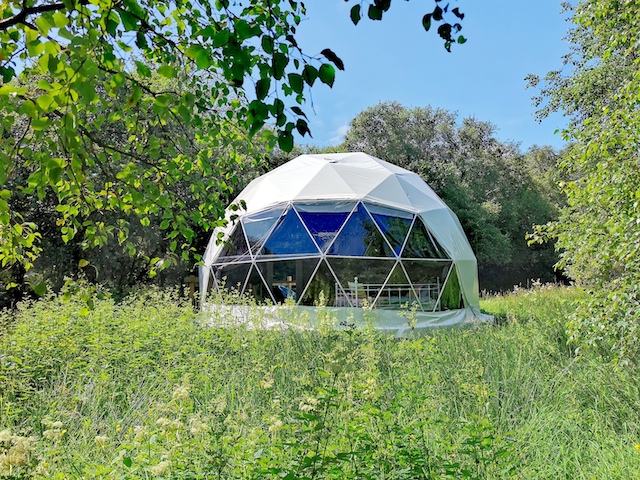 Included
Domes
Fresh bed linen
Coffee machine
Fridge
Cups/plates cutlery
Fuel for a gentle fire on two evenings - additional fuel can be purchased at cost price )strictly only fuel provided by us can be used in our stoves
Communal Kitchen 
Shared self catering facilities & wash up area
Utensils cups plates glasses etc
Fridge
Oven & Grill
Microwave
Quirky communal woodland dining shelter
BBQ
Not Included
Towels for Showering
Food and drinks
Charcoal for BBQ
Useful Packing Tips
Flat shoes - the gravel paths are not suitable for high heels
Snacks & Drinks - Shops are a 10 minute drive away so you can stop up on the way. (Cafes & restaurants 10 min drive)
Insect repellent during summer months in case the midges are about
Sunscreen if the weather is warm
Antihistamine if you suffer from hay fever as we are in the wilderness!
Less is more when it comes to single use plastic and rubbish left behind so please bring the minimum to our eco friendly camp
Get the feeling of Glamping at Teapot Lane with all the comforts of home in our three-bedroom, two-bathroom, self-catering cottage. This romantic cottage with a potbelly stove is decorated in a cosy vintage style.
The cottage is the ideal option for small groups and guests who require bathroom facilities and a bedroom under one roof! Our cute cottage is close to the campfire area so the use of onsite facilities will give you the feeling of outdoor adventure.
Bluebell Cottage guests have their own kitchen with fridge, oven and hob but you can still venture outside to barbecue and enjoy the communal facilities like campfire and shelter with the other guests.
Located at the heart of the Glamping site - our self-catering cottage is totally yours but has a communal feel.
Recommended for 2-6 Guests.
Midweek Check-in: Monday or Wednesday 
Two-night minimum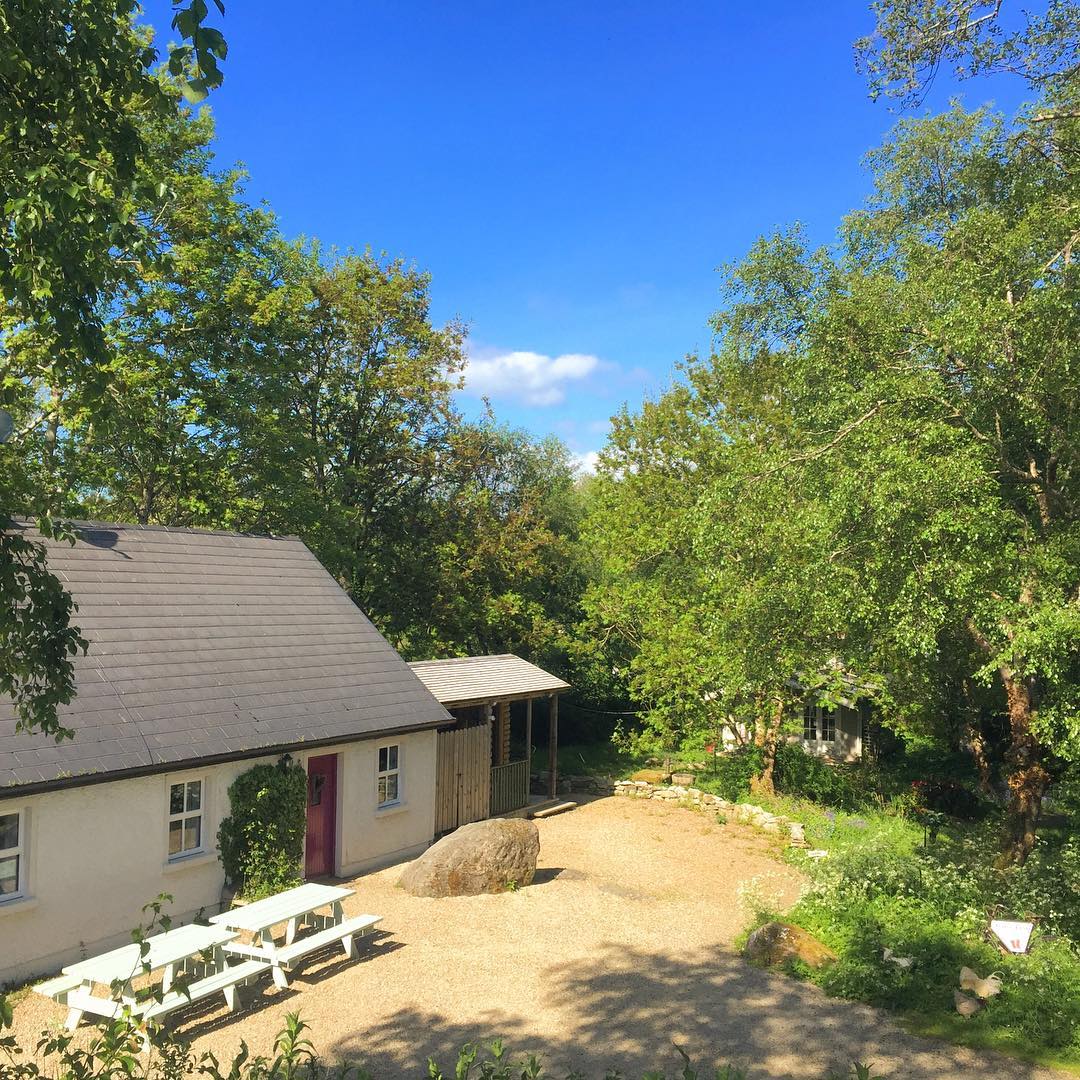 Included
Fresh bed linen
Hand towels
Self-catering facilities and utensils
Fuel for the Stove
Option use of the communal campers kitchen
Communal woodland dining shelter with BYOB bars, glasses and wine fridge
Communal BBQ area
Not Included
Towels for Showering
Food and drinks
Charcoal for BBQ
Useful Packing Tips
Insect repellent during summer months in case the midges are about
Sunscreen if the weather is warm
Antihistamine if you suffer from hay fever as we are in the wilderness!
Less is more when it comes to single-use plastic and rubbish left behind so please bring the minimum to our eco-friendly camp.
Torches can come in handy in case the EBS is working on the power lines which has been known to happen!
Towels for Showering and the beach
Matches or a lighter for the stove & BBQ